Hatshepsut Temple Overview
In the 7th century AD it was named after a Coptic monastery, known as the "Northern monastery", today it is known as the Temple of Deir El-Bahri, which means in Arabic, the "Temple of the Northern monastery".
This lovely structure is found in a steep half-circle of cliffs on the west bank of the Nile River and guarding the entrance to the great Valley of the Kings. The vast Temple of Hatshepsut in Deir el-Bahari rivals the Pyramids as one of the great funerary monuments of the ancient world.
Built into the towering cliff face which shelters the Valley of the Kings on the other side, it rises on three enormous terraces connected by ramps, each level marked with a colonnade of stark, largely unadorned square pillars. It was approached by a 16-metre-wide (150-ft) causeway leading from a valley temple which no longer exists.
The queen's architect, Senenmut, designed it and set it at the head of a valley overshadowed by the Peak of the Thebes, the "Lover of Silence," where lived the goddess who presided over the necropolis. The inner part of the temple was actually cut into the cliff and consists of a peristyle court, a hypostyle hall and an underground passage leading into the tomb itself.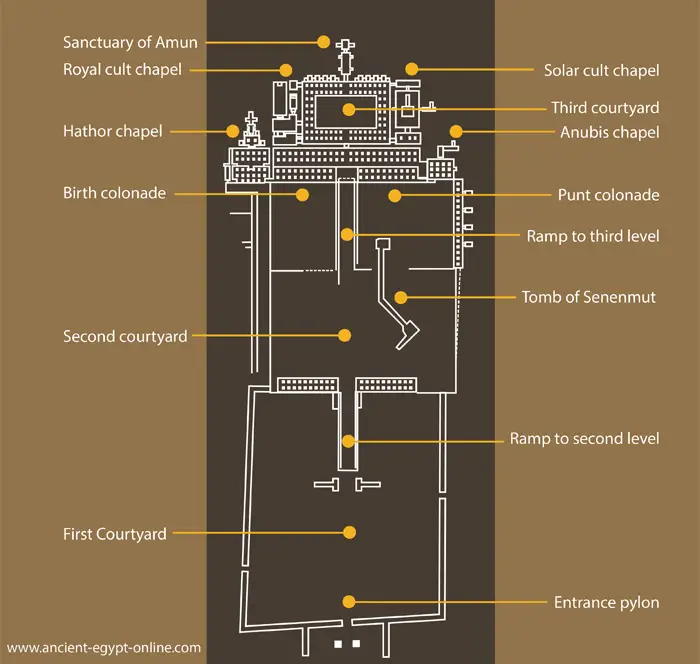 The cult of the dead king centered on the small shrine cut into the rear of the Hypostyle Hall. At the end of the Birth Colonnade and down some steps is the Chapel of Anubis, with fluted columns and colorful murals. The left side of the terrace is occupied by the Punt Colonnade, whose faint reliefs depict Hatshepsut's journey to the Land of Punt (the birthplace of Amun) to bring back myrrh trees for her temple.
At the end of the Punt Colonnade is the Chapel of Hathor, with capitals in the shape of the goddess' face and sacred rattle (sistrum). Inside the gated sanctuary of the Chapel of Hathor are reliefs of Hatshepsut (also preserved from destruction) worshipping the bovine Hathor on the left and a portrait of Senenmut on the right. Senenmut was the queen's favorite courtier.
The walls of Djeser-Djeseru are illustrated with Hatshepsut's autobiography, including stories of her fabled trip to the land of Punt, considered by some scholars likely to have been what is today Eritrea or Somalia. Although vandalized by Hatshepsut's foes and buried in sand for centuries, the Senmut's masterpiece loses no splendor.
It is an incredible expression of the absolute power of a pharaoh, whether woman or man.
Hatshepsut Temple Media
Frequently Asked Questions
Is Egypt safe to travel?
Egypt is safe country to visit with notable low crime rate, tourist attractions are well secured and there is no common negative attitude towards foreigners, with some sensible precautions and preparations you will feel at home and as safe as you'll ever be.
What to wear when visiting Egypt?
There is no special dress code when visiting Egypt tourist sites, modest dress is recommended in less tourist sites and there is no special concern for women traveling alone.
How to get visa to Egypt
Visitors to Egypt must obtain a visa from one of the Egyptian diplomatic missions or apply and pay online for one month visa to Egypt through
Egypt E-Visa Portal
. Valid Passport with 6 months validity beyond your travel schedule is a must, visitors from Australia, Canada, Croatia, European Union, Georgia, Japan, New Zealand, Norway, Macedonia, Republic of Korea, Russian Federation, Serbia, Ukraine, United Kingdom and United States can purchase a one month visa upon arrival.
What language is spoken in Egypt?
Egyptian Arabic is the most commonly spoken language in Egypt, it is also the national language in the country but Egyptians speak and understand English as they study it in school. Fewer Egyptians can speak other languages like French, Italian, Spanish, and German. Egyptians working in tourism sector are accustomed to speak enough English and other languages to fulfill the needs of most travelers.
What airlines fly to Egypt?
Egypt is very connected to the world, it has many direct flights with Africa, Asia, European Union and United States. Visit Cairo Airport website for a full list of Airlines that fly to Egypt.
What is the duty free allowance for Egypt?
Duty free allowances on arrival to Egypt are 1L alcohol, 1L perfume, and either 200 cigarettes, 25 cigars or 200g tobacco. Duty free shops are available in Egypt airports and major tourist cities (Cairo, Luxor, Hurghada, El Gouna and Sharm El Sheikh).
What time does the Pyramid open?
Giza Pyramids and most monuments and Museums in Egypt open between 8 Am to 5 Pm. During Ramadan, the holy month of the Islamic calendar, be aware that these hours will change significantly.
What are the opening hours for shops in Egypt?
Shops and stores in Egypt are usually opened from 10 Am to 10 Pm however in major cities it opens much later and some are open 24 hours.
Can non Muslim go inside mosque in Egypt?
Visitors are welcome in most mosques throughout the year. Modest dress is recommended, women should cover their hair, arms and legs. Both Women and men will remove their shoes before entering.
Can you take pictures in Egypt?
Taking pictures for people and streets is fine after people permission While Taking pictures for official type or army structures is not permitted. In most historical sites and museums in Egypt it is allowed to use camera, some of them may charge you for camera but at the Egyptian Museum and some similar historical sites it is prohibited and you will be asked to leave camera at reception before entering.
What type of hotels are there in Egypt? check-in time?
Egypt enjoys big hotel variety from world class luxury to simple hostel accommodations; Check in time in most hotels in Egypt is around midday, 12 or 1 PM.
Do you need any vaccinations to go to Egypt?
There in no health concerns or vaccinations required to visit Egypt but we recommend to check with your own doctor, he knows you and your medical history best.
What currency is used in Egypt?
The currency in Egypt is the Egyptian pound (LE), it is about ,06 to USD. Money exchange is widely available, Credit cards are largely used in Egypt major cities and tourist spots.
How to get around in Egypt?
We do not recommend the public buses in big cities. Taxi and limousine service are fine every where but price is negotiable. Trains go to all big cities in Egypt except Sinai and the Red Sea. Flights from / to tourist cities are always available.
How much to tip in Egypt?
Tipping in Egypt is an appreciated habitual attitude but is Not obligatory. Generally 5 to 10 EGP for small favors is fine for carrying luggage, parking a car or to guys who clean bathrooms. 10 % is fine in restaurant and spa. Tipping your tour guide and vehicle driver should be considered if you're provided with good to great service, feel free to give what you think your experience was worth.
What makes your Egypt packages unique?
Being one of the leading players in travel industry since 1955, we offer a wide range of Egypt packages. Ensuring that your Egypt tour with us would be a lifetime experience with flexible Egypt tour itineraries, competitive prices, excellent customer service and multiple payment facilities. If you plan a tour to Egypt, here is the place you better look in. Whatever your Egypt travel plans, you will find range of Egypt holiday packages. Whether you plan for tour packages to Egypt for small group, singles, solo traveler, private, family or a couple, whether you need escorted Egypt tour packages for your parents or an unusual Egypt holidays and package for yourself, we can help you to tailor your holiday in Egypt as we offer many tour packages to Egypt with prices starting from 300 Usd. Uncover a set of Egypt holiday itineraries and pick from best Egypt travel packages with flights and without. Remeber to add more activities to your choosen Egypt tours and packages, we also categorize holiday packages to Egypt by topic to find your suitable interest. Whether you look for adventure Egypt packages or romantic vacations in Egypt, you will find it here. Being short trip to Egypt or long stay Egypt holiday we have the right Egypt vacation packages for you to select from. Planning Egypt cheap tours or luxury holiday in Egypt? browse our collection of vacation packages to Egypt to indulge you on your Egypt vacations and package at your desired budget. Browse Egypt Packages from Usa, Uk, Canada, Austraia, India, Europe, Aisa and Africa. Get prepared for your Egypt vacation reading our tips about the best time to visit Egypt, Egypt tourism & things to do in Egypt.
What is Egypt best known for?
In Cairo, visit the Egyptian Museum, Pyramids of Giza, the Sphinx, Khan El Khalili Bazaar and relish a walking tour on foot in Old Cairo. In Luxor visit the impressive Luxor temple, Hatshepsut temple, Valley of the Kings and Karnak temple. Aswan tours go to Philae Temple, Edfu, Kom Ombo and Abu Simbel temples. Uncover the Western Desert oases like Siwa and Bahariya. Diving or snorkeling in the magic waters of Red Sea and Sinai beaches like Sharm El Sheikh, Dahab, Taba, Hurghada and Marsa Alam to explore the magic of the underwater world. Board a Nile Cruise from Luxor to Aswan or vise versa, Lake Nasser Cruise from Aswan to Abu Simbel or vise versa and Cruise from Cairo to Aswan or vise versa.