Mortuary Temple of Hatshepsut
In the 7th century AD it was named after a Coptic monastery, known as the "Northern monastery", today it is known as the Temple of Deir El-Bahri, which means in Arabic, the "Temple of the Northern monastery".
This lovely structure is found in a steep half-circle of cliffs on the west bank of the Nile River and guarding the entrance to the great Valley of the Kings. The vast Temple of Hatshepsut in Deir el-Bahari rivals the Pyramids as one of the great funerary monuments of the ancient world.
Built into the towering cliff face which shelters the Valley of the Kings on the other side, it rises on three enormous terraces connected by ramps, each level marked with a colonnade of stark, largely unadorned square pillars. It was approached by a 16-metre-wide (150-ft) causeway leading from a valley temple which no longer exists.
The queen's architect, Senenmut, designed it and set it at the head of a valley overshadowed by the Peak of the Thebes, the "Lover of Silence," where lived the goddess who presided over the necropolis. The inner part of the temple was actually cut into the cliff and consists of a peristyle court, a hypostyle hall and an underground passage leading into the tomb itself.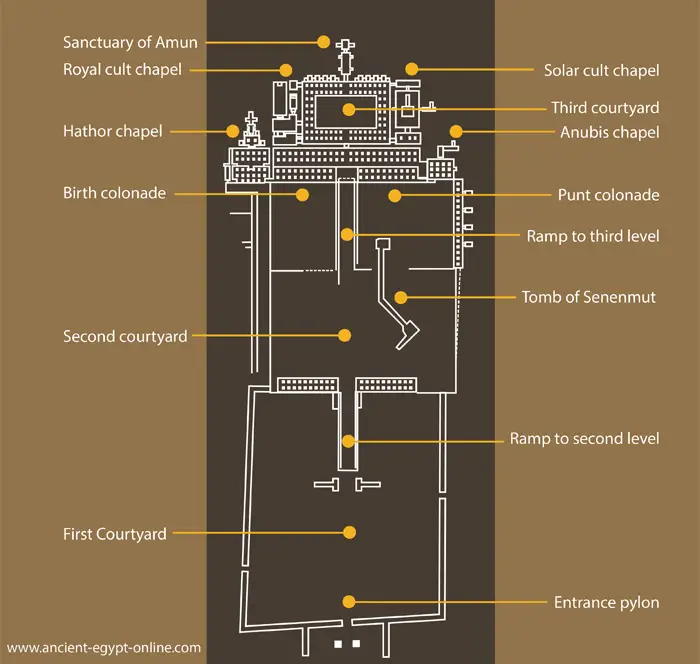 The cult of the dead king centered on the small shrine cut into the rear of the Hypostyle Hall. At the end of the Birth Colonnade and down some steps is the Chapel of Anubis, with fluted columns and colorful murals. The left side of the terrace is occupied by the Punt Colonnade, whose faint reliefs depict Hatshepsut's journey to the Land of Punt (the birthplace of Amun) to bring back myrrh trees for her temple.
At the end of the Punt Colonnade is the Chapel of Hathor, with capitals in the shape of the goddess' face and sacred rattle (sistrum). Inside the gated sanctuary of the Chapel of Hathor are reliefs of Hatshepsut (also preserved from destruction) worshipping the bovine Hathor on the left and a portrait of Senenmut on the right. Senenmut was the queen's favorite courtier.
The walls of Djeser-Djeseru are illustrated with Hatshepsut's autobiography, including stories of her fabled trip to the land of Punt, considered by some scholars likely to have been what is today Eritrea or Somalia. Although vandalized by Hatshepsut's foes and buried in sand for centuries, the Senmut's masterpiece loses no splendor.
It is an incredible expression of the absolute power of a pharaoh, whether woman or man.
Egypt Tours Including Queen Hatshepsut Temple
Beyond Queen Hatshepsut Temple