Wadi El Rayan Waterfalls
The natural protected area of Wadi El-Rayan is a small valley southwest of the Fayoum oasis, the closest Western Desert oasis to Cairo. The valley of the whales, located 60 south of Wadi EL-Rian in El-Fayoum oasis.
The site today is a protected area and a natural Heritage Site added in 2005 by the UNESCO as world heritage site. The area is characterized by its integrated desert environment, consisting of different wild animals and important and various sea fossils.
Two man made lakes, created by agricultural run-off water from the Fayoum oasis, are joined by a channel and charming waterfalls. The upper lake is densely vegetated whereas the lower lake is brackish and its shores are poorly vegetated. The lakes are wintering habitat for water birds migrating from south and north to Egypt.
The area conserves large expanses of desert containing a variety of landscapes and formations. Rare and fascinating wild life is found in the desert of Wadi El- Rayan along with fossils of creatures of past epochs and cultural heritage sites from ancient civilizations.
Wadi El-Rayyan is an amazing destination for a soft-adventure daytrip from Cairo: you can swim in the lakes, jump off the waterfalls, and most of all, just enjoy the amazing natural scenery. You can also head to the nearby Whale Valley, which is also a part of the protectorate, an open-air museum that showcases whale fossils that have been excavated in the area.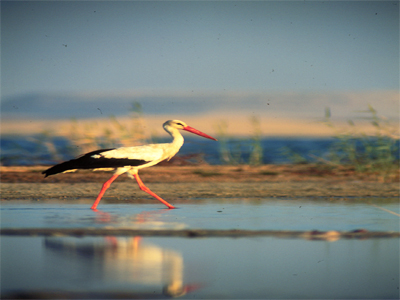 Most memorable is the spectacular scenery of Wadi El- Rayan is the contrast between the blue waters of the lake and the golden desert sand. Take a walk in sand dunes to experience a clear environment where you can relaxed and forget the normal stress of everyday life.
Wadi El Rayan is also important because it accommodates one of the world's few remaining populations of the endangered Slender-horned gazelle. The Dorcas Gazelle is still found in the area in small numbers while both the Fennec Fox and Rüppell's Fox are scarce. There are 11 species of reptiles, 9 species of mammals, 13 species of resident birds, and 26 migrant and vagrant birds. Wadi El-Rayan attracts about 188.000 visitors a year who never forget their trip.
Visiting Wadi El Rayan is easy form Cairo, it could be visited in couple of hours within a full day trip to El Fayoum. Tours to El Fayoum are common activity for local tour operators and travel agencies, they run guided tours by car to most of El Fayoum nature attractions and landmarks on daily basis. It is just an hour and half hour drive trip by car with national park tickets, lunch, qualified tour guide and return transfer included.
Wadi El rayan is the site that you should not miss in your soon visit to Egypt !
Egypt Tours Including Wadi El Rayan
Beyond Wadi El Rayan